Grief Series By Irene Rowland, MS, NCC, LPC
Grief: Can Anything Good Come of It?
by Irene Rowland, MS, NCC, LPC
Although tragedy can bring out the worst in us, it can also bring out the best in us…eventually. Our faith can be tested. Many factors contribute to resiliency such as environment, temperament, genetics and healthy coping skills. I personally was reminded that resiliency can also be God's strength living in us when we don't have any of our own left. That idea is reinforced in 2 Corinthians 12:9-10.
When tragedy knocks us down, often we find that we have more resources than we realized. Some people come to a living faith because of tragedy, and some of us are glad to find out that what we thought was a genuine faith is indeed real and intact. My hope in sharing some of my journey with you is that you will live life to the fullest, become the best version of yourself and treasure your loved ones and the time you have with them. We don't know when our time or their time here on earth is up, so wasting time isn't a wise option. Here's a little of my story.
Life Was Good
It was a pretty day on the Friday of Labor Day weekend in 2011. Life was good. Envision a backdrop of beautiful trees with summer-green leaves and being embraced by glorious Georgia sunshine. My husband had gotten a new grill for his birthday and was itching to cook for his family. He'd contacted all three sons and, despite their busy schedules, we were all going to be getting together on Saturday for a barbecue. My greatest joy was to watch my guys interacting, cavorting and carrying on as only they could do. There is nowhere on earth I'd rather be on any given day than basking in the presence of my family. That's how my mother's heart works. Getting together every year for our professional family portraits even felt like a holiday to me!
The last time we'd all been together was in May on my birthday. We'd seen each other in smaller groups since then, but this would be the first time for all five of us to be together again. My husband planned his elaborate menu and happily purchased enough food for a small army. My heart was singing as I cleaned and prepared for the special, long-awaited following day of merriment.
Life Can Change in an Instant
Then we got the call. There had been a serious accident. We were told that our eldest son, Chris, was in critical condition and on life support. We were about to embark on a journey that no one could have been able to imagine beforehand. It wasn't supposed to go this way.
Our 30-year-old son, our eldest, had taken his life. No one even remotely saw this coming; it was completely out of character. Chris was intelligent, handsome, funny, well-loved and enjoyed spending time with many good friends, his girlfriend and brothers. He had lots of interests, talents and a passion for music. Chris had a heart of gold and went the extra mile for others both literally and figuratively. His legacy includes helping a friend with her newborn before work or on his way back home each day for several months. Among all the selfless gifts that he bestowed on others, he once traveled 45 minutes to bring soup to a sick friend and then immediately had to turn around to get to work on time.
Nothing could possibly prepare a family for such unfathomable tragedy. Nothing could prepare a parent for such an unspeakable nightmare. It was surreal. It wasn't supposed to go this way. There is no way to pave the way for something like this. Or was there?
What can help get us through?
God is Always There
I had survived a difficult childhood and at 19 years old married my sweetie who was in the Marine Corps. We uprooted our household with each change of duty station. I kept the home fires burning during various deployments and found myself caring for three young children under the age of ten while my husband was in Saudi Arabia serving in Desert Storm.
By the time our world was turned completely upside down with Chris' death, we had experienced almost 35 years of the ups and downs of married life together. Amidst the accomplishments and defeats, there had been the joy of births and the sorrow of deaths. God was faithful to sustain me throughout all of those years. I had found Him to be trustworthy and had already learned resilience through trials and tribulations. It turns out that all of this would give me strength for whatever the future might bring.
Many years of involvement with Bible studies, my moms' prayer group, and a lifetime of Sundays sitting in church listening to homilies gave me the strength I'd need for this journey. Although I didn't memorize scripture by chapter and verse, bits and pieces of scripture nourished me and were unconsciously hidden in my heart. I knew that He was a strong tower that I could run to in times of trouble. I was also aware that somehow all things would work together for good for those who loved Him, that nothing could separate us from the love of God, and that He sent His son so that I could enjoy eternal life. It didn't matter that I hadn't learned to quote where the passages could be found. I had everything I needed tucked away in my heart. This was all part of the preparation that was already in place by the time disaster struck.
Family and Friends
My family had always been there for me. We'd taken turns squabbling over the years but despite disagreements, the love was always present as the underlying thread holding me and all of my siblings together. We always stood by each other's side when it counted.
Over the course of 53 years, I had also gathered friends from all over the country due to our military moves and had held on to a few cherished ones from back home. One of God's hand-picked treasures for me was a friend of 24 years at that point. She has three daughters and we helped raise each other's children. She was like a second mom to our boys and I was the same for her girls. Having known and loved Chris for so long she understood all my references. I didn't have to explain anything which lightened my burden when I needed to talk through my grief.
Inexplicably, several months before our son's death, I joined Facebook after having been adamant for so long that I was not even remotely interested in entertaining the possibility. Within weeks, I had reconnected with friends that I'd lost touch with decades ago. So, as you can see, my faith, family and friends were already in place to support me when we got that call.
Hidden Blessings Among Suffering
Eventually as the fog lifted, God reminded me that faith had held me up before and it would hold me up again. When Moses could not hold the heavy tablets up any longer, his friends on both sides of him held up his arms. God has put family and friends alongside us to hold us up when we are too weary. I have since met many wonderful people who have also tragically lost a loved one and are now fellow travelers on this grief journey. Our new friends include parents who have lost children, also involuntary members of a club that no one would want to be associated with. These survivor friends hold us up and help us to persevere.
During the first year after our loss, many days and nights, I couldn't quiet the incessant chattering of my mind. I fell asleep and awakened to the recurring litany of what had happened, where we had been at what time and all the other heartwrenching details of our story. I'd memorized Chris' note and would wake up reciting it. Over time, interspersed with the merciless tape which continued to play, I would find myself hearing lyrics of peace, hope and comfort floating around in my head as I went to sleep and as I woke up. Music had been sustaining me without my even realizing it….strains of "when everything falls apart, Your arms hold me together, when everything falls apart, You're the only hope for this heart, when everything falls apart, and my strength is gone, I find You mighty and strong, You keep holding on" from lyrics by Fee. Also speaking to my heart awakening or falling asleep were echoes from a newly discovered song by Mercy Me, "So here I am, what's left of me, where glory meets my suffering, I'm alive, even though a part of me has died, You take my heart and breathe it back to life, I've fallen into your arms open wide, when the hurt and the Healer collide".
Two years and 26 days after our loss, just as I was regaining my equilibrium, tragedy struck again. My youngest brother, Tony, Chris' godfather, also died by suicide. He too was a man with a big heart. Even though we knew that it was a possibility since he struggled with depression and was going through a terrible divorce, it was still a horrible loss. Sigh. So hard to understand. Sometimes the waves of life knock us down repeatedly.
Life Can Still Be Good
Despite living with a shattered heart, God has given me the ability to not be blind to the good that still exists in the world. Love will see me through, love for my husband and our two remaining sons, love for our new granddaughter and her mom, love for my siblings, family and friends, love for my Christopher and Tony who will always be in my heart and love for my Lord who planted the seeds of faith and love in my heart a very long time ago to prepare my heart for anything that could ever happen.
Faith has sustained me before and it will have to continue to give me strength now. What other reasonable choice do I have? My life has been changed in ways that I wish weren't true and yet where my strength comes from is a truth that will never change. It looks like in unplanned ways, I was prepared. Life is not how I yearn for it to be once again, but I am able to enjoy life and see that it can still be very good.
About Irene Rowland, MS, NCC, LPC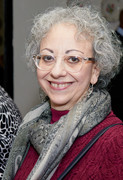 Irene is a licensed professional counselor with Holy Family Counseling Center working out of two offices in the greater Atlanta area. She counsels individuals, couples and families. She considers it an honor to walk alongside her clients who are brave enough to be working on their growth journey. She is also trained in EMDR trauma therapy and uses it successfully with more than half of her clients. She is a member of the Catholic Psychotherapy Association, Chi Sigma Iota an international honor society in counseling, the Licensed Professional Counseling Association, Psi Chi an international honor society in Psychology, and a member of the National Board of Certified Counselors. For more information about her, please visit Holy Family Counseling Center.
If you liked this post, share it!


Grief Stages Two and Three
The Truth about the Stages of Grief
How to Respond to the Loss of Someone Else's Child
Spiritual Resources on the Grief Journey
Online Resources for Those who Grieve
Honoring a Loved One Who Has Died