CHECK OUR LATEST POST
Grief Stages Two and Three
by Irene Rowland, MS, NCC, LPC
Listen to podcast on grief and resiliency
I was in grad school when our son died by suicide. Ironically, I was studying to be a counselor. Not even I recognized what tiny little signs there may have been. He held everything together so well, but we know now he must have been a great actor with undiagnosed depression. He had lots of friends and family who loved him, went places, did things he enjoyed and acted as he normally did. There was no moping around his house with the curtains drawn or any of the other typical signs of depression. He had always been resilient dealing with trials in his almost 31 years of life. Only he knows what his final silent battles were.
Many Ways to Express Anger
The second stage of grief is anger. Not everyone experiences this. Some get angry with God… most people don't stay in that place, but some do. Others blame and get angry with the doctors, nurses, family members or whoever they believe could've done things differently so that the loved one would still be here. Some get angry with the loved one for dying and leaving them. There are those who get angry with themselves and experience regret and guilt which can turn into depression.
Anger is an action word. I think my anger at the situation and all the unanswered questions, took the form of taking all the actions I could to get to the bottom of this mystery. One of the ways I dealt with my grief was to read every book that I could get my hands on concerning suicide and dealing with grief in general. I read about 40 books on these topics in the first year or two.
A really short but helpful book, Living When a Loved One has Died, by Earl Grollman, was a reassurance when I found out what is normal in an abnormal situation. I went back to my classes 2 ½ weeks after losing Chris and went through the motions and got good grades. It was very difficult, but it was also beneficial to be distracted for pockets of time here and there. The determination to persevere was also a way to honor our son, I think that's what he would've wanted me to do. I wanted to finish the path that God had set me on but I could've taken time off. It gave me a sense of sanity to have places to be and studying to do, maybe He prompted me to continue because that's what was best for me. For someone else, stepping back might've been the answer.
Bargaining
As mentioned in a prior blog, bargaining only makes perfect sense in the original intent of the Kubler Ross 'grief stages for those who are terminally ill. It's possible that some who are grieving might bargain in a way similar to obsessive compulsive disorder symptoms such as 'if I do xyz then nothing else bad will happen to my other loved ones.' Bargaining can postpone feeling the pain, confusion and emotions of grief because like anger, it's an action word. The noise of anger and bargaining make the silence and stillness needed for healing more difficult and prolong the path to finding a semblance of peace again.
About Irene Rowland, MS, NCC, LPC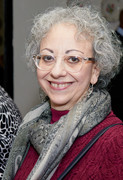 Irene is a licensed professional counselor with Holy Family Counseling Center working out of two offices in the greater Atlanta area. She counsels individuals, couples and families. She considers it an honor to walk alongside her clients who are brave enough to be working on their growth journey. She is also trained in EMDR trauma therapy and uses it successfully with more than half of her clients. She is a member of the Catholic Psychotherapy Association, Chi Sigma Iota an international honor society in counseling, the Licensed Professional Counseling Association, Psi Chi an international honor society in Psychology, and a member of the National Board of Certified Counselors. For more information about her, please visit Holy Family Counseling Center.
If you liked this post, share it!


Grief: Can Anything Good Come From It?