Take me to "Restoring Your Marriage After Pornography"
by Danny Ryan
With the isolation and constant screen time that has become the new norm another pandemic has evolved – the porn pandemic. In this article, I'd like to dive into a resource available from Souls and Hearts that will help you restore the relationship with your spouse and eliminate pornography from your marriage and family.
My name is Danny Ryan, I'm a Marketing and Business advisor for Souls and Hearts. In this role, I'm helping the founders of Souls and Hearts get the message out about the resources available online to help address several specific issues that impacting people. When reviewing the list of courses available, the first one that I wanted to audit and help promote was a course focused on this pandemic that I see is impacting so many husbands and wives.
The reason I am writing this article is three-fold:
Introduce you to the "Be True" course available on the Souls and Hearts platform.
Share the top benefits of taking the course (trust me, there are many).
I'm also looking to find others to help share the word about this important resource.
Introduction to Be True Course
Let's start with an introduction to the online course. The instructor is Dr. Gerry Crete, a marriage and family therapist, someone who has helped many of his clients over the years overcome issues around pornography. The course is an adaptation of his proven program that he's used for many years with much success. It's broken up into three parts and 25 modules. The first is a Course Introduction, which gives you an overview each of the 25 modules is not only full of valuable information and resources but contains action items for husbands and wives to complete individually and together.
The second part is entitled "Increase Understanding." If we are to truly address the underlying issue with pornography, we will need to expand our knowledge. It includes important topics such as how to spot whether you or your spouse has a problem with pornography, how porn affects our brain, key tactical steps addressing accountability partners and groups, choosing a sponsor and whether you need a therapist, and if you do, how to choose the right therapist. Finally, Dr. Crete covers the sensitive subject of disclosing an issue with porn to your spouse or what to do when your spouse confronts you when finding out you've got a problem with porn.
The third part is about "Moving Forward." Here, Dr. Crete covers key topics that you need to truly address the issue with porn. Topics include boundaries, setting up an addition free environment, identifying triggers, preventing relapses, identifying and fulfilling real needs, insecure and secure attachment, and finally understating how a prayer life will help with living a life with integrity. It's like having over a dozen sessions with an experienced therapist with key actionable next steps that you and your spouse can take to understand the concepts covered.
Top 10 Benefits to the Be True Course
Next, I'd like to cover what I see as the top 10 benefits of taking this course.
Benefit #1 – It's anonymous
No one wants to talk about pornography. Especially if you or your spouse is currently having issues. The feeling of shame can overwhelm. But, unless we address this, this could have a lasting negative impact on your marriage and family. By having this as an online resource, you can stay anonymous and address this issue as a couple from the comfort of your home (no masks required!).
Benefit #2 – It compliments your therapist
This is not intended to be a replacement for your therapist. In fact, Dr. Crete will help you determine whether you should find a therapist, and, if so, how to find the right therapist for you. This course will give you the knowledge you need and the steps necessary to address you or your spouse's issues with pornography.
Benefit #3 – You do this with your spouse
One of the great things about this online course is Dr. Crete gives you and your spouse the next steps at the end of each module to drive home the concepts. There is no quick fix to this – and the hard work required can be done together and you are guided through a path to address the pain and begin the healing.
Benefit #4 – You get additional resources to help
Dr. Crete has a list of resources including other websites, apps, and links to complement the content in the course. One example is in the module on "Setting up an addiction-free environment" which has several practical examples and resources available to help create a safe environment.
Benefit #5 – Content from the Catholic worldview
This is one of my favorite things about all the materials from Souls and Hearts – it not only brings in the best that modern psychology has to offer, but it also is grounded in the rich wisdom and truth of the Catholic worldview. Yes, part of addressing this issue with pornography is the sacrament of Reconciliation and the forgiveness that only Jesus can give while acting through the priest. Another example is again in the module called "Setting up an addiction-free environment" where the action items include not only confession but also praying a prayer of protection over each other.
Benefit #6 – You can revisit the content later
You can go back and review the content – maybe you go through parts on your own and then with your spouse. What's nice is this is a resource that you can revisit time and time again. Hopefully, you'll not have a slip-up…but if you do, the materials are still there to help you get back on the right path.
Benefit #7 – You feel a sense of accomplishment when completing each module
When experiencing the setback of falling to looking at pornography, the course gives you and your spouse something actionable to show positive progress. For the person with the issue with pornography, this is a great way to earn back trust and show earnest regret and dedication to addressing the problem.
Benefit #8 – The modules are just the right size
The videos in each of the modules are typically 10 minutes or less. This makes it easy to fit this into your schedule. You can set the goal to cover a module a day and decide to cover the action items from the module for the next day.
Benefit #9 – You decide on the pacing
Maybe one module a day is too fast. The point is you can decide on the pacing and adjust to your schedule.
Benefit #10 – It's a reasonable cost
We are offering the course for the cost of $250. Sign up today and begin taking steps in a positive direction. Ignore this problem and you will continue to put your marriage and the spiritual well-being at risk.
Do you know someone who could benefit from this course?
The final reason I am writing this article is to drive awareness of this resource. If you are a priest, therapist, or spiritual director that would like to refer others to this resource to complement or augment what you are doing we are starting an affiliate program for Souls and Hearts. To learn more and register as an affiliate, follow this link to sign up today.
About Danny Ryan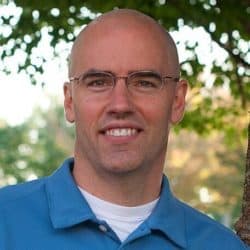 Danny Ryan is a marketing and business advisor for Souls and Hearts. He is also the co-founder of ThreeWill, a consulting company in Atlanta, Georgia, which helps companies craft modern digital workplaces on the Microsoft Cloud. He helps run their sales and marketing efforts as well as lead their "Work Together Better" podcast. As an industrial engineer from Georgia Tech, he's always looking for a better way to do things. He's also an aspiring improv student and has taken three years of classes at Red Door Playhouse in Roswell, Georgia. He also enjoys running and spending time with my wife, Amy, and their three children. They attend Our Lady of the Mountains Parish in Jasper, Georgia. For more information, please visit ThreeWill.